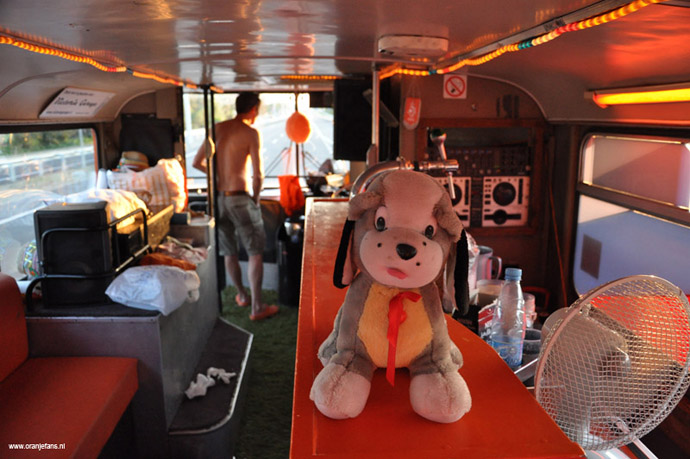 Last sunday, at the end of the first march of the day. Walked from Oranjecamping to the metrostation, and while all Dutch fans go into the station we are wating for a bit, enjoying the Kharkiv people, who are very enthousiast.
Ico and Luuk, standing on the deck of our bus, are seeing both a little girl and her mother. Both are smiling and waving. Luuk walkes down and gives his Orange scarf to the little girl. Ohhh.. she is so happy! But what she does after that is unbelievable..
She has a fluffy dog in her hands, she probably takes it with her to bed when she goes to sleep. She looks at her mom, tells her something and gives without hesitation her dog away, to us.. Although we are trying to stop her, as this is her toy, her fluffy dog, she doesn't change her mind at all: the dog is her present for us. She is probably not older than 5, and does something like that.. unbelievable! One of the many beautifull storys about Kharkiv, probably the most beautiful.
Little dog, from now on you go with us, you are our mascotte. To every country we go, all over the world. That, little girl, is our promise to you..
Het is de laatste zondag in Kharkiv. We hebben zojuist de mars van de Oranjecamping achter de rug, en staan nog wat na te genieten op het achterdek van het enthosiaste publiek uit Kharkiv.
Ico en Luuk staan op het achterdek, en zien een moeder met haar ongeveer 5 jaar oude dochtertje aan komen lopen en lachen en zwaaien. Luuk loopt naar hen toe, en geeft het meisje zijn Holland sjaal die om zijn nek zit. Ohh.. het meisje glundert aan alle kanten! En wat ze vervolgens doet is helemaal onvoorstelbaar..
Ze heeft een knuffel, een hondje in haar handjes. Ze zegt wat tegen haar moeder, bedenkt zich geen moment en geeft met een hele duidelijke boodschap haar knuffel aan ons: die is voor jullie! Ontroert als we zijn proberen we haar op andere gedachten te brengen, het is tenslotte haar knuffel! Die ze waarschijnlijk mee naar bed neemt voor het slapen gaan.. Maar gedecideerd wijst ze dat af: haar knuffel is voor ons. Een van de vele ontroerende verhalen uit Kharkiv, een van de mooiste.
Klein hondje, vanaf nu af aan ga je met ons mee, je bent onze mascotte. Waar we ook heengaan, overal over de wereld. Dat, kleine dame, is onze belofte aan jou..
Bartje